by tuneup on Nov.29, 2013, under info
Guys and girls of Tune Up, Its Carls here and it's that time of year again. That time all locals stay away from Surfers Paradise and no tourists visit. That time of year the streets are taken over by the newly graduated students of year 12. Yes people, Schoolies is here!!!!
The streets are crawling with Schoolies. I myself am a little apprehensive to visit Surfers Paradise. I have quickly come to realise that the first week of schoolies there are certain bars and restaurants that the schoolies don't visit and Tune Up is one of them. This being due to the fact that most are under age. So this is a prime opportunity to visit one of your favourite bars or restaurants. No lines for drinks or waiting for a table. Tune Up is the same. We quieten down a little over schoolies so its a great time to come in with your friends and take advantage of singing as many songs as you like and catching up with the Tune Up Crue. The second week of schoolies is the NSW and Victorian's they are all 18 and love Tune Up. I know there is a bit of a stigma attached to coming into Surfers during schoolies time but we had a lot of regulars and locals come in and really enjoy the energy that the schoolies brought. They were young fun and incredibly polite.
Another advantage of coming into Tune Up Bar is the view from our balcony over looking all the Schoolie crazyness on Cavill Ave. Never a dull moment!!
Onto past news… Tune Up had it's Halloween party. The Crue had their faces painted, massive black wings and looking a little more sexy then scary. The bar was decked out in spider webs, bats and creepy crawlies. Our shot the 'Brain Hemorrhage' was quite a hit. Skull shot glasses with a potent little concoction to look like a floating brain with blood on the bottom. The texture of this shot in your mouth is almost indescribable… Curdling goodness are the words I would use. All in all a great night!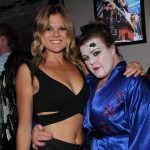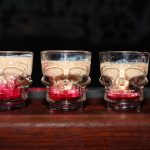 Onto more recent news The Tune Up Crue had their staff Christmas party…. Enough said.
Before I go, to answer the most commonly asked question of this month. We are updating the song book in December. Most likely mid December. Date is yet to be confirmed. But should be ready by the beginning of next year.
Until next time..
Good jarrrrrrrb
Carls