by tuneup on Dec.31, 2017, under info
Hi Guys,
What a year! – I know we say that every year but that's because it's true!!
Every year all of you give us more reasons to laugh, smile and plenty of stories to tell to our 'normal' friends that don't work in a karaoke bar. I would like to start off by saying a big thank you to everyone who has graced us with their presence this past year. I see more and more familiar faces as every year goes by and it's so good to get to know you all better – even though the alcohol can cause the conversations to get a bit TMI – but that's what makes Tune-Up unique.
Since this year is drawing to a close we have all come together with our favourite moments from the last 365 nights.
We started the year off with adding some new songs to our collection. And still you people are not satisfied, insisting we should have 'Horses' and 'Mr. Brightside'.
Mr. Brightside I get, but Horses? Let it go, it's not going to happen.
Tune-Ups 8th birthday celebration where we themed the bar as 'R&B' for the night and had a great time hearing you all join in and perform the most neglected genre of karaoke music, anyone who tried to perform Valerie or Bohemian Rhapsody was quickly evicted!!
We FINALLY got a new till, we were never happier to say goodbye to the dinosaur that was occupying the bench prior!!
Long time Tune-Up babe Maddi left us for greener pastures after three and half years of suffering through all of your singing and being given countless phone numbers – we still miss her terribly!!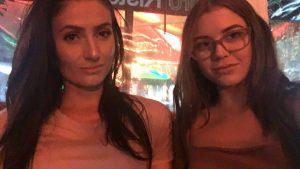 Endless Facebook posts where we tried to give you a glimpse of what it's like behind the scenes here at Tune-Up, if you haven't seen them yet we suggest going through our page and having a laugh at our expense.
Kats thinking he's hilarious and constantly buying toys, nick naks, plants, signs, you name it he bought anything to make sure there was no spare space on any bench or balcony.
A favourite moment was watching a customer do a knee slide on our floor and realizing that the carpet is definitely not soft- we later heard that his pants were completely ripped at the knee and the scrapes were infected!! I still laugh every time I think about it!!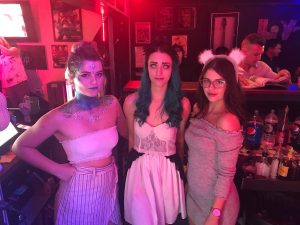 We have single handedly skyrocketed the sales of Pringles to heights previously unheard of.
More stories have been relayed to us of how you and your friends use 'Good job' as your own personal joke within your regular everyday lives, and we love it!
You might have seen her gracing the bar and stage already but we had a new girl join us! For those not introduced yet her name is Courtenay and she's been the latest addition to our Tune-Up family! She's bubbly, friendly and heaps of fun to have a chat or sing with so if you haven't yet come in and say hello!!
When Kats decided that we would no longer have unhealthy snacks, which was followed by months of unhealthy snacks. He can pay my gym membership!
Izzy has joined our team as the latest guard, he's had heaps of fun signing with you, and getting to know you all. If you need a duet partner look no further he is definitely not shy!!
There are honestly too many funny moments that we haven't included in here. Have you got a favourite night that you have had with us this year? I hope we can all look to the New Year with positive thoughts and aim to make next year even better than this one- which will be pretty hard because 2017 was great!! May 2018 be kind to you all and I'm sure we will see you all again very soon, stay safe on new years and enjoy your Christmas!!!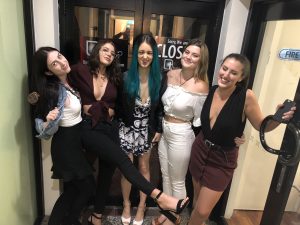 Love from all of the Tune- Up girls – Kris, Chantelle, Rhiannon and Courtnenay
…..And Laura