by tuneup on Jun.22, 2016, under info
Wow so it's been a while since you've heard from us here on the blog! Lazy I know!!!!! We do have an excuse though it's been a crazy couple of months!!
We said goodbye to long time Tune Up girl Georgie recently and wish her all the best for the future, you will be missed!! (Don't worry though she still visits, after all you can never truly leave Tune Up! haha)
The whole crew including our security boys James and Tyler joined us for a staff dinner this month. It's always great when we get to all catch up together outside of work, did any of you spot us out for drinks that night too?? Hahaha we felt sorry for Maddi and Emily who had to work the night after! Big thank you to Laura for making sure we all got home safe and put up with us in her car! Guess what? We even got a rare photo of Kats actually OUTSIDE of Tune Up! Would you believe it? Haha!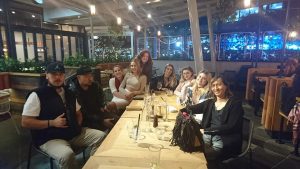 Some of you may have noticed a few new things around the bar lately.  We started to find lots of 'artwork' in the ladies bathroom recently so we thought we would save your lipstick and put chalkboards up for you all instead! Shout out to Chantelle for coming up with the idea, we've had heaps of fun things left behind for us to read when we clean up of a night time! And as far as the actual bar side of Tune Up goes we've been brought into the present and actually have CAFÉ PATRON! Come in and have a shot with us, your shout of course 😉 haha!
We'd like to say thank you to everyone who has been in lately because the last couple of months have been so much fun! (Or maybe we're just drinking more?) Kats has even let us play some new background DVD's lately but I think the Beyoncé concert is about to 'mysteriously' disappear, I guess we'll have to pry the Bonjovi DVD out of his cold, dead hands haha!!
As you might know some new lockout laws are approaching on July 1st (Boooooooooo) but don't worry in true Tune Up fashion we're going to carry on no matter what and make sure you're all getting your party fix every night of the week despite what the Government says!!! I guess you're all going to have to get off your butts and start coming to see us earlier!!
There's not many jobs where your only responsibility is to have a great time along with you all every night of the week! So thank you to all of our regulars and newcomers you make it so easy for us to do! Most of the time we even forget we're at work until we have to start cleaning everything up!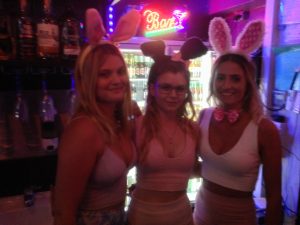 That's all for now! See you all in soon to make every night even better than the last!
Kris