by tuneup on Nov.12, 2013, under info
Hello fellow tune up lovers, Kelcey here!
WELL AFTER A LONG WAIT THE WALL OF SHAME IS FINALLY BACK.
If you were not here when we first found the wall of shame, let me just fill you in.  So the wall of shame is a list of numbers, notes and photos left for us bar girls.  It is honestly filled with the most hilarious pick up lines, diagrams and photos.  So this wall of shame used to fill one of the walls behind the bar.  But since the renovations that wall was knocked down. ( sad face)  So we have now moved it to a bigger and better wall behind the bar. (excited face)  But as this wall is wider the wall now looks a lot smaller.  SO HELP ME AND LETS FILL THIS WALL UP !!!!!! (puppy dog eyes) Bring in your funniest photos, write us a note or slip us your number!!!  This is your chance as a customer to be remembered forever ! haha Hopefully together we can fill this wall and create a lasting memory !!!!!!!!!!!!!!!!!!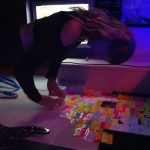 LIKE TRUE DANCER.
If you have not notice yet, there is always a lot of action happening behind the bar.   From dramatic interpretive dancing to downright busting out the best hip hop moves you'll ever see, we like to entertain our customers on a whole new level!!  Unfortunately though customers often do not hear the funny jokes or the reasoning's behind our craziness!! So often enough we do get a lot of those "What the hell are you doing Looks."  !!  ahaha But what are you going to do, pretty sure it's probably funnier without knowing why we are being idiots. So if your not here to sing, you are more then welcome to watch our craziness and even join in !!! =)
ALSO, I would like to make a special shout out to BEC, one of the bar girls here at Tune-up ! She has found probably the funniest dance clip I have ever seen.  It is of a girl who in the back of a real dance class, is basically just busting out some pretty crazy moves !! The moves include a lot of hip thrusts, some random karate action and some bum hoping !! haha.  SO of course as you would expect Bec and I plan to learn this routine for regular performances at the bar !!!  If you're interested, you are more then welcome to learn this choreography or perform some of your own crazy dances for us.
COUNTDOWN BEGINS!!
Lastly, I would just like to announce that in two weeks time I am a qualified highschool teacher !!!!!!! BOOYA!!!!!  I best see you all here for celebratory drinks !!!!!!!!!! =)