by tuneup on Jul.29, 2013, under info
HELLO MY FELLOW TUNE-UP LOVERS,
Kelcey here!
If you haven't met me yet, here is just a little background on myself:
I am 21 years old, I have a bachelor of fine arts in Dance from QUT.  I am currently completing my degree in secondary teaching and shall be a qualified dance and drama teacher by the end of the year.  I joined Tune-up purely as a night job to help get me through my degree BUT I quickly fell in love with my job and have been here for over two years now.
Over the years I have had the pleasure of developing some amazing friendships with our regular customers.  Some of our regulars have been coming to Tune-up since we opened about four years ago!!!! As I usually work the LONENLY MONDAY SHIFT by myself :(.  It's always nice to have my regulars pop in to keep me company and bust out some of my favorite tunes!  All of Tune-up's regular customers are not only fun, outgoing people but they constantly support our small business.  They respect the rules and procedures at Tune-up and continue to welcome new costumes into our intimate environment!!!   I think this is one of the main points which separates Tune-up from normal bars.   Not only is the service beyond amazing 😉 but our costumers are always friendly and welcoming to all Tune-Up new comers.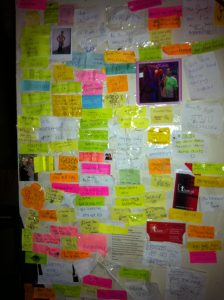 The staff member s here at Tune-up has also developed a "Wall of shame".  This is simply a wall of funny photos, notes and maybe some sneaky phone numbers given to the Tune-up girls.  This wall started about 6 months ago and is increasing everyday.  Each and every Tune-up girl has contributed to this wall in some way and we hope our new tune up girl will do the same.  But personally Carly and I hope to fill the wall completely!!! So if your new to tune-up or if you're a regular and have been slack, feel free to add a special something to our wall !!!!!!!!
That's it from me =) ! Come in and visit (especially on my lonely Monday shifts) and bust out some of your favorite tunes!!!